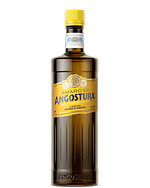 Sale!
Amaro Di Angostura 750ml
-15%
Product images are for illustrative purposes only and may differ from the actual product due to label and design changes. Please contact us first if you are looking for specific versions. Otherwise, we ship based on the product name.
Blending is an art that the house of Amaro Di Angostura has mastered during its 190-year history in producing the finest award-winning bitters and rums. Angostura's blenders are experts who have developed closely guarded recipes. They are passionate about innovation always working toward better techniques.
Amaro di angostura is their latest achievement it is truly one-of-a-kind, with a signature approach unmistakeably from the house of angostura.
The blenders combined Angostura aromatic bitters with some neutral spirit and added more spices…until a magnificent herbal liqueur was created the spirit, spices, and bitter herbs were mixed and then left to marry for 3 months. It is the patience and skill of the blenders that makes this herbal liqueur exotic, fun, and seductive.
The latest innovation from the House of Angostura. Amaro di Angostura is derived from the bespoke process used in creating the House of Angostura's iconic aromatic bitters. It is a deep amber color, offering aromas of cinnamon, dark chocolate, and unmistakeable Angostura aromatic bitters.
The finish is perfectly balanced, exotic, lush, and reminiscent of the essence of Trinidad and Tobago's pulsating rhythms, tropical climate, and beauty. This beautiful liqueur can be enjoyed over ice, is splendid on its own, and offers delicious harmony in a cocktail.
Appearance:
Clear, deep reddy brown – similar to Angostura Aromatic Bitters.
Aroma:
Pungent, rooty (cola and liquorice), and herbal with clove, nutmeg, cinnamon, cardamom, and black pepper spice – spicier than most Italian Amari with faint zesty orange.
Taste:
The dry side of bitter-sweet with a slightly syrupy mouthfeel and pronounced cinnamon, clove, and cardamom spice. Rooty cola and liquorice with caramel and honeyed sweetness. Bitterness intensifies as the palate develops accompanied by mild chill heat.
Aftertaste:
Long, spicy, rooty finish with warming chili notes.
Overall:
Spicier than your average amaro. Subtle chili heat along with spearmint-like freshness and zesty orange make this a cleansing after-dinner digestive served over ice.