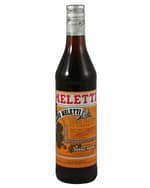 Sale!
10%
Amaro Meletti 700ml
$62.98 
Product images are for illustrative purposes only and may differ from the actual product due to label and design changes. Please contact us first if you are looking for specific versions. Otherwise, we ship based on the product name.
Meletti Amaro is produced by a family-owned and operated company located in Le Marche. Most of the ingredients used are sourced from the region from growers who work exclusively with the brand. Known botanicals include anise, clove, gentian, orange peel, saffron, and violet flower.
The method of cold-extraction known as percolation is the method for obtaining flavors and the neutral spirit base is a blend of molasses and beetroot. Water and sugar are added as well.
An Italian digestive made with the Meletti family recipe, you can almost feel the history seeping out of the Amaro. Evidently, history tastes an awful lot like herbs, aromatic spices and is enjoyably bittersweet.
Amaro Meletti is flavored with an infusion of fruits and herbs and the producers say it is "characterized by an elegant aftertaste of caramelized sugar and Sibillini saffron."
Meletti Amaro is rich in caramel and chocolate without being cloying. It has a fascinating array of flavors from saffron to anise, resulting in a balanced and complex liqueur.
This classic Italian liqueur is an infusion of aromatic herbs using an old family recipe. It has distinctive hints of anise, saffron, and violet, a fair bit of carameley tones, and an array of other less subtle spices. It is both subtly bitter and beautifully balanced. This one beautiful and complex Amaro.
Great served and sipped after dinner as a digestif with or without ice and a slice of orange.
Testing Notes:
The brisk, invigorating scent of this amaro hovers between herbal and medicinal. On the palate, it skews sweeter, with rich caramel and hazelnut flavors and just enough bitterness and baking spice to keep things interesting.