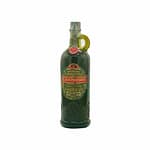 Ron Prohibido 15 Year Gran Reserva Rum 750ml
Sale!
10%
Ron Prohibido 15 Year Gran Reserva Rum 750ml
$115.00 
Product images are for illustrative purposes only and may differ from the actual product due to label and design changes. Please contact us first if you are looking for specific versions. Otherwise, we ship based on the product name.
Ron Prohibido 15 Year Gran Reserva Rum
Ron Prohibido 15 Year is a Mexican rum which is aged in a 15-year solera system in ex Pedro Ximenez Spanish oak barrels. This rum is created from an old XVIII Century recipe. Ron Prohibido is a premium, artisan rum produced under 12 & 15 year solera systems in the 18th century tradition from when the Spanish ships would bring back Mexican rum in fortified wine barrels. Its truly distinctive taste, sweet and sour, is acquired through the combination of different blended rums aged in used raisin wine barrels. Prohibited during the reign of the King of Spain Felipe V De Borbon, this alcohol beverage known as Chinguirito or Habanero returns with Ron Prohibido.
A solera aged rum from El Ron Prohibido, "The Forbidden Rum". This complex Mexican rum is distilled from molasses, and the oldest spirit in the bottle is around 15 years old. We have to say, the bottle is very cool too.
Tasting Notes Of Ron Prohibido 15 Year
Nose:
Crushed walnuts, brown sugar and waves of vanilla. Following that, you'll start to get plenty of raisin and prune notes.
Palate:
Viscous and mouth-coating. Honey, dark chocolate and more raisins. Black coffee, nutmeg and oak.
Finish:
Strong coffee notes remain.
40% ABV, 750 ml