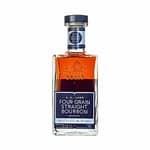 1792 Bourbon Bottled In Bond 750ml
Sale!
1792 Bourbon Bottled In Bond 750ml
-10%
Product images are for illustrative purposes only and may differ from the actual product due to label and design changes. Please contact us first if you are looking for specific versions. Otherwise, we ship based on the product name.
1792 Bourbon Bottled In Bond
1792 Bourbon Bottled In Bond whiskey must be the product of one distillation season and one distiller at a single distillery, aged in a federally bonded warehouse under U.S. government supervision for at least four years. 1792 Bourbon Bottled In Bond whiskey must be bottled at exactly 100 proof. Additionally, the Bottled in Bond label must clearly identify the distillery where it was distilled and where it was bottled. True to its heritage, the unmistakable spice of 1792 Bourbon is met with notes of charred oak and fresh mint. Subtle caramel apple tones are delicately balanced with the lingering essence of coffee and black pepper.

In 2017, Barton's 1792 brand still had their foot on the gas in terms of a steady flow of new releases.  The brand's Small Batch bourbon had existed ever since Sazerac had acquired the distillery in 2009, but between 2015 and 2016, five new labels were released: Port Finish, Sweet Wheat, High Rye, Full Proof and Single Barrel.
1792 Bottled In Bond will be released annually in the fall, beginning with 2017. The bourbon in review is from the fall 2017 release.
NOSE
Rye spice, vanilla, and caramel are most prominent with a trace of oak underneath. The scents are oddly a bit light, lacking the anticipated dose of ethanol I would expect for 100 proof. Enjoyable overall.
palate
Rye spice mingles with caramel and vanilla creating a flavor profile that's easily alluded to based on the aroma. There's a developed amount of seasoned oak as well, giving it much needed dimension. The rye spice and seasoned oak present themselves most prominently, overtaking the sweeter notes, which ultimately makes for a characteristically spicy sip. It's not quite as chewy as compared to 1792 Small Batch, but it does have a nice mouthfeel overall.
finish
The sip ends nicely with rye spice and seasoned oak dominating the start of the finish. There's a hint of caramel sweetness as well, providing a sweeter note to contrast the more overpowering spice found in the finish. Medium to long lasting.