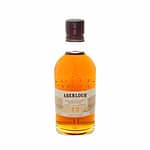 Aberlour 12 Year Double Cask Matured Highland Single Malt Scotch Whisky 750ml
Sale!
5%
Aberlour 12 Year Double Cask Matured Highland Single Malt Scotch Whisky 750ml
$129.00 
Product images are for illustrative purposes only and may differ from the actual product due to label and design changes. Please contact us first if you are looking for specific versions. Otherwise, we ship based on the product name.
Aberlour
12 Year Whisky is always a good choice – one of the best value Speyside malts around. This double matured version is a mix of traditional oak and sherry casks and is rich and fruity with delicious Christmas cake notes. The fantastic and always popular Aberlour 12 Year Old
Whisky 
, matured in both traditional oak and sherry casks, now bottled at 40% abv.
The double cask matured version of the Aberlour 12 year old whiskey is made from a mix of traditional oak and sherry casks, and is bottled at the standard 40% ABV. It retails for $65 CAD at LCBO, making it one of the most affordable single malts available here. The Aberlour 12yo Double Cask has recently garnered a fair bit of publicity in Canada, as it was recently selected by the Speaker of the House of Commons as his "selection scotch" for use at official functions.
Flavour :
Citrus, Apple, Vanilla, Spice, Toffee, Chocolate, Orange
Alcohol Content :
40 Percent by Volume
Alcohol Type :
Single malt
Liquid Volume :
700 Millilitres
Tasting Notes Of  Aberlour 12 Year Whisky
Nose:
Fruity with a ton of red grapefruit, cape gooseberry, kiwi, and decadent refined honey. Very floral as well, with a heady cloud of lemon verbena and honeysuckle. All of the fruits seem fresh and tart as opposed to the usual Aberlour dark red and black fruits. This is downright summery.
Palate:
Syrupy body. Honey again, with almost no tongue burn at all. Dried apricots and golden figs replace the tart fruits from the aroma. There is a faint layer of oakiness, mostly with notes of cinnamon and vanilla.
Finish:
Medium-short. The finish is a little muddled. The fruit notes are not clear, and the spicy oak notes are now marred with slightly acrid bitterness. Ends somewhat quickly, without evolving. This situation improves with further sips, which build up a little more sweetness to balance the bitterness.