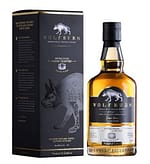 Wolfburn Hand Crafted Single Malt 750ml
Sale!
Wolfburn Hand Crafted Single Malt 750ml
-12%
Product images are for illustrative purposes only and may differ from the actual product due to label and design changes. Please contact us first if you are looking for specific versions. Otherwise, we ship based on the product name.
Wolfburn Hand Crafted Is The Most Northerly Whisky Distillery On The Scottish Mainland. Originally Founded In 1821, In Its Day It Was One Of The Biggest In Scotland. Today, Wolfburn Has Been Re-Awakened Under The Guiding Hand Of Master Distiller Shane Fraser And Is Once Again Making Truly Exceptional Single Malt Scotch Whisky. It Is All Done The Traditional Way: By Hand, Using Only The Finest Ingredients, And Without Haste.
Wolfburn Hand Crafted has the honor of being Scotland's northernmost mainland whisky producing distillery. Its first single malt was released in March 2016. The facility is located a mere 350m from the ruins of the original 19th-century distillery of the same name. Both distilleries hail from the town of Thurso. Nobody knows for sure, but it's rumored that the first Wolfburn opened around 1822 and remained operational until it was mothballed in 1877.
Sweet, Nutty Tones Come To The Fore, With Hints Of Grapes And Honey In The Background. Floral Fl Avours Abound, Enhanced With Just A Hint Of Coffee And Dark Chocolate. It Is A Lovely Rounded Whisky, Which Coats The Palate To Leave Just A Trace Of Peat.
Becoming Scotland's northernmost mainland whisky producing distillery when it released its first single malt in March 2016, Wolfburn is built just 350m away from the ruins of the 19th-century distillery from which it takes its name. With long fermentation, slow manual distillation, and maturation taking place at least partly in quarter casks that previously held peated whisky from Islay, this is a release we've eagerly anticipated!
Appearance:
White wine color with fast, young legs. Very little in the way of appreciable beading.
Nose:
Malt ascends first with notes of cut grass, green apple, and Pine-Sol. Next comes nutmeg, Nilla Wafer, and the eau de toilette of a very young spirit.
Palate:
Youthful spirit prevails, along with a sharp tang that bites back. The addition of water brings out dried flowers, Chinese pepper, and Fuyu persimmon. As a little time goes by, the malt presence in my glass starts to resemble Cheerios, along with a more ethereal, yeasty note which might be likened to sourdough bread.