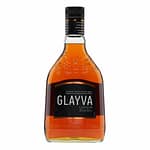 Glayva Scottish Liqueur 500ml
Sale!
Glayva Scottish Liqueur 500ml
-7%
Product images are for illustrative purposes only and may differ from the actual product due to label and design changes. Please contact us first if you are looking for specific versions. Otherwise, we ship based on the product name.
Glayva Scottish Liqueur
Hugely popular Scottish liqueur made with whisky, honey, spices, almonds, and tangerines. The name is the phonetic pronunciation of the Gaelic 'gle math' meaning 'very good'. Rather brilliantly, Glayva Scottish Liqueur is now trademarked as 'the best liqueur in the world' after winning the IWSC trophy a record-breaking five times.
A very popular Scotch whisky liqueur, Glayva Scottish Liqueur is flavored with honey, almonds, tangerines, and spices. The name derives from the Gaelic for "very good". The liqueur is of such merit that it won the International Wine and Spirit Competition 5 times, making it the best liqueur in the world.
The smooth and mellow Scotch Whiskey liqueur made in Scotland to an ancient recipe using the finest Scotch Whiskies, wild heather, and herbs.
The spirit is created from an exotic fusion of the finest aged Scotch malt whiskies, a carefully selected range of spices, Mediterranean tangerines, cinnamon, and honey. Because of all these different ingredients, Glayva has a very distinctive and pleasant taste. Surprisingly smooth and sweet, with a hint of cinnamon and spices, it really tastes like nothing else!
This exotic whisky fusion liqueur is surprisingly smooth and sweet with a taste all its own. As it is so good on its own, you do not need to mix Glayva with anything. Enjoy this drink neat, on the rocks, chilled, or even warm. It is suitable for any occasion and for any company. It pairs excellently with both chocolate and coffee. Enjoy it with roasted or fresh fruit to bring out its sweet honey notes.
Color:
Amber is so complex and bright as to appear coppery.
Aroma:
The warmth of whiskies on the nose, with mouth-watering notes of cinnamon, nuts, and tangerines, and an echo of beehives.
Taste:
A gorgeously smooth melange of grain, spices, and citrus orchard. Any bitterness is beautifully balanced with sweetness. Honeyed, sophisticated, and comforting.