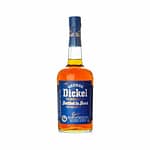 George Dickel 13 Year Old Bottled-In-Bond Bourbon Whisky 750ml
Sale!
George Dickel 13 Year Old Bottled-In-Bond Bourbon Whisky 750ml
-20%
Product images are for illustrative purposes only and may differ from the actual product due to label and design changes. Please contact us first if you are looking for specific versions. Otherwise, we ship based on the product name.
George Dickel 13 Year old Whisky is a limited release whiskey that joins the company's other standard whiskeys. George Dickel Classic No. 8 and George Dickel Superior No. 12. The company also has a large single barrel program for retailers, and also sells their whiskey to numerous companies and non-distiller producers.
lassification: Tennessee Whiskey
Company: George A. Dickel & Co.
Distillery: Cascade Hollow Distilling Co.
Release Date: May 2019
Proof: 100
Age: 13 Years
Mashbill: 84% Corn, 8% Rye, 8% Malted Barley
Color: Deep Amber
TASTING NOTES OF George Dickel 13 Year
NOSE
A deliciously sweet aroma of cherry, apple, vanilla, and oak with a hint of custard. It's warming with the perfect amount of intensity that immediately makes a wonderful impression. An extra swirl of the glass further opens up the scents and builds to an impressive apex.
PALATE
A tasty sweet mix of fruit punch, baking spice, toasted oak, pound cake, and faint roasted peanuts. It's quite enjoyable and gets even better as you chew on it. To my surprise, doing this allows the flavors to further open up a great deal and become more expressive. The palate nails that perfect Dickel flavor profile you can find with certain single barrels from the company. It can come across as a bit hot for its proof – especially at first sip – but this isn't that uncommon for Dickel whiskeys in my experience.
FINISH
A hefty amount of spice and dry oak develops during its finish, grounding the whiskey. It's uncomplicated as it hits hard and quickly fades. It's a finish that's not all that exciting, but more than adequate in its conciseness.