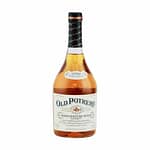 Anchor Old Potrero 18Th Century Whiskey 750ml
Sale!
15%
Anchor Old Potrero 18Th Century Whiskey 750ml
$155.00 
Product images are for illustrative purposes only and may differ from the actual product due to label and design changes. Please contact us first if you are looking for specific versions. Otherwise, we ship based on the product name.
Anchor Old Potrero Whiskey – Distilled at the Anchor Distilling Company in San Francisco, the 18th Century Style Whiskey is made from 100% rye. It is aged for 2 years and 6 months, but it is aged in toasted NOT charred oak barrels and they use both new and used barrels so it's not a straight rye (or a plain rye whiskey for that matter). As the rye is malted and since this is distilled at one distillery, it is technically a single malt whiskey. Now you know…and knowing is half the battle.
Anchor Old Potrero Whiskey is craft whiskey before there was craft whiskey, predating the movement we know today by almost two decades. Old Potrero 18th Century Style Whiskey is the distillery's attempt to take their malted rye approach and use it to create a whiskey more authentic to colonial and revolutionary times, or "America's original whiskey."
Tasting notes
There are a ton of herbs on the nose such as oregano, coriander and dried grass, reminiscent of an aged Genever. Raw wood is detected as well. The rye grain really comes into play on the palate and the finish with more herbs shining through. Adding a couple of drops of water allows the creamy texture to come out and smooths out some of the rough edges.
Color:
Deep gold, like a super-rich white dessert wine.
Nose:
Very grainy, almost yeasty, like rising bread. A little honey, combined with the toasty graininess, gives an impression of Honey Nut Cheerios. Dried stone fruit—namely that dense, faintly funky scent dried peach has—surfaces after a few minutes.
Palate:
Honey shows up first on the palate. There's some grain, but not as much as I got on the nose. The fruit here is darker and juicier, more like blackberry, and it's spicy, but in the peppery sense, not the baking spice sense. Fairly hot and pleasantly sticky on the palate. Spice on the finish, followed by oak, with fruit lingering.