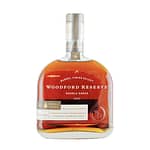 Woodford Reserve Double Oak Bourbon 750Ml
Sale!
10%
Woodford Reserve Double Oak Bourbon 750Ml
$135.00 
Product images are for illustrative purposes only and may differ from the actual product due to label and design changes. Please contact us first if you are looking for specific versions. Otherwise, we ship based on the product name.
Woodford Reserve Double Oak Bourbon
This is brand new packaging for the venerable Woodford Reserve Double Oak Bourbon. It is a shorter, thicker bottle.
NOSE:
Upon a deep inhale, I'm greeted with a nice mixture of sweet and oaky. Toasted marshmallows, sweet vanilla, lightly toasted oak, and corn are topped with a drizzle of syrup. The additional aging in a second barrel seems to have imparted less wood on the nose than I would have expected, while also pulling forward the sweeter flavors you'd find in standard Woodford Reserve. Comparably, Double Oaked presents a surprisingly more diverse and enjoyable experience.
palate:
Oak and sweet vanilla are the dominant flavors here. Beneath are subtle hints of leather, caramel, and dried dark fruits. Seeing as this was exposed to new charred oak twice, it's surprising to see how well the sweetness of the vanilla plays nicely with the woody oak flavors. Although it doesn't have a all-star flavor profile, Double Oaked still manages to come across as richer and heavier in comparison to standard
Woodford Reserve
. This is a very good thing seeing as how thin the standard expression comes across. It's still an easier sipper, however it doesn't taste nearly as watered down as its sibling does.
finish:
The mellowest of heat is present, which makes for a really nice clean enjoyable finish. Dry leather, oak, tobacco, burnt caramel, baking chocolate, rye spice, and sweet dried fruits are present at the start. The finish then morphs into leather, oak, and a dash of white pepper, which lingers for a surprisingly long time. The finish delivers a great flavorful experience that is straightforward and easy enough for bourbon drinkers of any experience level to enjoy.
uniqueness:
Rebarreling whiskey to finish it in a second barrel isn't a new concept and wasn't new when Brown-Forman released Double Oaked. They make for an efficient way for distilleries to try to differentiate themselves in the crowded marketplace.