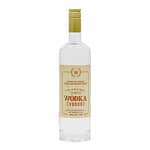 Wodka Polish Vodka 1000 Ml
Sale!
Wodka Polish Vodka 1000 Ml
-20%
Product images are for illustrative purposes only and may differ from the actual product due to label and design changes. Please contact us first if you are looking for specific versions. Otherwise, we ship based on the product name.
Poland- An excellent value, Wodka Polish Vodka is a crisp, clean, and mixable vodka. There are noticable accents of rye as well as hints of minerality in each sip. Perfect as a base in your favorite cocktails.
Wodka Polish Vodka is produced at Fabryka Wodek Wieslaw where it is triple distilled, charcoal filtered and packaged in Polish blown glass. It holds a 90-point rating by the Beverage Testing Institute a first for any brand available in its price category. Wódka stands tall costing as little as one-third the price of its competitors. Simply put, Wódka is best described by its credo, "Great Vodka. Priced Right."
Appearance:
Crystalline bright appearance, clear as a bell. Silver pool in the glass. On swirling, it leaves a thin clear coat on the inside of the glass with long thin legs and scalloped edging.
First Impression:
Alcohol and grain. At first pass you get some esters, then they very quickly pass and you can smell the graininess of rye and almost anticipate the body of the vodka by its depth.
Taste:
Tasted at room temperature it is a touch raw – but few people outside of myself and my Russian friends drink it that way. But it displays a nice grain character. Not as minerally as Russian styles of vodka this polish rye will appeal to people who want lots of rye flavor with a minimum of mineral distraction. Oily body and warmth/burn when you toss it down lets you know you are drinking something.
Drinks:
Martini was excellent (with olive or twist) the rye adds some depth and complexity (something a vodka martini sorely needs anyway). Worked well in every other vodka based drink also. Assertive enough to taste it (in a good way) with its solid grain backbone put plays nicely with other ingredients but lends weight to the mouthfeel.