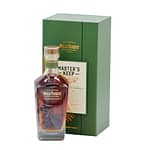 Wild Turkey Cornerstone MasterS Keep Rye Whiskey 750ml
Sale!
Wild Turkey Cornerstone MasterS Keep Rye Whiskey 750ml
-20%
Product images are for illustrative purposes only and may differ from the actual product due to label and design changes. Please contact us first if you are looking for specific versions. Otherwise, we ship based on the product name.
Wild Turkey Master's Keep Cornerstone is the fourth release in the Master's Keep series, after the 17 Year Old, Decades, and Revival. Cornerstone is noteworthy as the first rye whiskey that Wild Turkey has released in this series. And is also the company's longest aged and highest proof rye ever released. The bottle carries a 9 year age statement, however, the company press release states it includes whiskey up to 11 years old. 16,000 bottles were produced for the U.S. market.
NOSE:
A sweet and rustic aroma showcases oaky pine, honey, green apple, orange rind, and lemon zest. A quick swirl of the glass increases the richness of these scents, which makes a beautiful impression. This is not your typical rye nose. As it is much more flushed with flavors and complex than you usually find in many ryes on the market.
palate:
The sip immediately hits you with a twinge of green apple and cinnamon roll sweetness, before transitioning into a more oak-heavy, slightly minty, and burnt butterscotch affair. It has a satisfying amount of heat that helps elevate the complexity of its flavors and doesn't simply overpower them. The flavors are enjoyable, but not over the top.
finish:
The oak comes through hard on the finish resulting in a noticeably dry way to end the sip. The oak is nicely complemented by cocoa, rye spice, clove, and black pepper in keeping with the whiskey's rustic flavor profile. It's not mind-blowing by any means, but it's unique tasting enough to make up for it.
uniqueness:
We've talked at length in our previous reviews of Wild Turkey Master's Keep editions about the company's struggles with their limited releases in regards to how tempered they come across. At first taste, it seemed like Cornerstone was going to follow suit. It most likely won't wow you with its initial sip. It's not overly fruity or sweet like some ryes, nor is it as creamy or punchy as others.