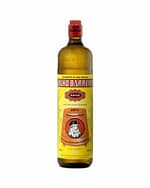 Velho Barreiro Cachaca 750ml
Sale!
10%
Velho Barreiro Cachaca 750ml
$77.98 
Product images are for illustrative purposes only and may differ from the actual product due to label and design changes. Please contact us first if you are looking for specific versions. Otherwise, we ship based on the product name.
Velho Barreiro Cachaca
An excellent traditional cachaca from Velho Barreiro Cachaca Produced by double distilling sugar cane juice and then ageing in a large oak vat to enhance the complex vegetal flavours. Makes a delicious caipirinha by adding 5cl to 3 coffee spoons of refined sugar cane, a lime cut into either 4 or 8 pieces and crushed ice.
Column distilled from fermented sugar cane juice and then aged in large oak vats for an undisclosed period. This popular brand Velho Barreiro Cachaca was launched in 1975 by Indústrias Reunidas de Bebidas Tatuzinho. A black label, aged version is also available.
Here we have Velho Barreiro 'yellow label', a light, easy-going Brazilian Cachaça made at the Tatuzinho distillery. It's produced by double distilling sugar cane juice in a column still, and then ageing the liquid in a large oak vat to enhance the complex vegetal flavours. This ought to make a mean Caipirinha. Very nicely packaged too.
Produced in São Paolo at the IRB Tatuzhinho 3 Fazendas Distillery, this is their Tradicional expression. It is double-distilled and aged for an unspecified amount of time in large oak vats before bottling.
Classic aromas burst forth as the spirit hits the glass: fresh grass, sweet cane sugar juice, and butter cream. Rose petals and the faintest hint of canned corn comes next. A burst of black pepper, sugar cane honey, and wheat grass hit the palate first before the subsequent sips reveal salt water, rose water, roasted fennel bulb, and silky buttercream.
Nose:
Herby vegetal aromas alongside lime and lemon citrus peel, apples and a little brown sugar.
Palate:
 Earthy and spiced straight off the bat, with black pepper. Tangy citrus with crisp apples and pears, gently sweet with a good pinch of baking spices.
Finish:
Natural sweet notes linger, along with slightly charred vegetal notes.