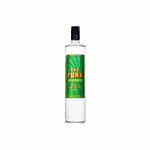 The Funk Jamaican Rum 100 Proof 750ml
The Funk Jamaican Rum 100 Proof 750ml
$75.00
Product images are for illustrative purposes only and may differ from the actual product due to label and design changes. Please contact us first if you are looking for specific versions. Otherwise, we ship based on the product name.
Tasting Notes Of The Funk Jamaican Rum
Appearance:
Clear, slightly oily looking stuff in the bottle, reminds me a bit of lamp oil really…… Thick oily stuff in the glass coating the glass with a surprisingly light coat on swirling with few legs and mostly a stubborn edge line precipitating tears/droplets – one of the oddest results we have seen actually…
First Impression:
Heavy HOGO funk of bananas,  estery with acidic type notes, lemon mango and other citrus, oily mysterious and complex stuff!
Taste:
Smooth entry which starts a touch sweet then turns rapidly and fading fast, woody, dry then an acidic but sweet delicious thick and cloying ( in a good way) type of taste. Kind of a spicy rum and banana bread type of taste. The color fools you, this tastes like a heavy dark rum but it is clear white.
The Funk Jamaican Rum has been imported by Proof and Wood Ventures. (These are the folks who brought us the Redemption Rye, Redemption Bourbon, and later sold of the brand to the Deutsch Family.) Made in the Saint Catherine Distillery Jamaica, this rum is "heavier" than it looks, funky, mysterious, complex, and just perfect for tiki drinks.
Type: Pot Still, Rhum Industrial
Classification: Rum
Ingredients: Dunder, Molasses
Distillery: Saint Catherine Distillery Jamaica
Importer: Proof and Wood Bardstown Kentucky
Proof: 100 (50%)
ABV :  50%