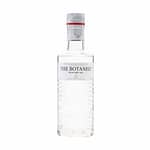 The Botanist Islay Gin 750ml
Sale!
5%
The Botanist Islay Gin 750ml
$97.00 
Product images are for illustrative purposes only and may differ from the actual product due to label and design changes. Please contact us first if you are looking for specific versions. Otherwise, we ship based on the product name.
The Botanist Islay Gin is a small-batch, artisanal Islay Dry Gin combining nine classic gin botanicals with a further twenty two others that are local to the island. With 31 botanicals, one could easily think that the gin might be a confusing mess, but thankfully – it's anything but.
As the name suggests, discussing The Botanist is first and foremost a discussion around the botanicals they use and how they distil them. To begin with, the team source 9 classic botanicals (juniper berries, angelica root, cassia bark, cinnamon bark, coriander seed, lemon peel, orange peel, liquorice root and orris root) from around the world. They then bring together a further 22 locally sourced botanicals, hand picked by foragers who search across the hills, bogs and shores of Islay to find apple mint birch leaves, downy birch, bog myrtle leaves, sweet chamomile, creeping thistle flowers, elderflower, gorse flowers, heather flowers, hawthorn flowers, juniper (prostrate) berries, Lady's Bedstraw flowers, lemon balm, meadowsweet, spearmint leaves, mugwort leaves, red clover flowers, sweet cicely leaves, tansy, thyme leaves, water mint leaves, white clover and finally wood sage leaves.
Tasting Notes Of The Botanist Islay Gin
Nose: Enough botanicals to make us wish we had five noses. Big notes of citrus, delicate menthol and flowers everywhere!
Palate: Cool at first. It quickly mellows out, warmth growing with citrus keeping it fresh throughout.
Finish: Long, with a good spice.
Overall: Islay isn't just about the whisky anymore. The Botanist Gin is top-notch.