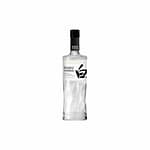 Suntory Haku Japanese Craft Vodka
Sale!
Suntory Haku Japanese Craft Vodka
-15%
Product images are for illustrative purposes only and may differ from the actual product due to label and design changes. Please contact us first if you are looking for specific versions. Otherwise, we ship based on the product name.
Haku is the Japanese craft vodka from the House of Suntory.
The name Haku means "white" in Japanese and refers to the Japanese white rice that is the origin of the liquid. Moreover, it can also be read as "brilliant" a tribute to the craft of mastering a clear, clean, and luminous vodka.
Suntory has been making vodka since 1956, and Haku represents Suntory's philosophy of craftsmanship, meticulous attention to detail, and commitment to quality.
Founded in 1899, the Suntory Haku Japanese Craft was built on one man's dream. Shinjiro Torii, who at the age of 20 wanted to "create an original Japanese spirits blessed with the riches of Japanese nature and 'monozukuri' craftsmanship : a relentless pursuit for perfection, meticulous attention to detail and commitment to quality."
100% JAPANESE RICE AND BAMBOO FILTRATION
Haku is made with 100% Japanese white rice. It has 3 distinct steps in the distillation process:
• First, Japanese rice is fermented and distilled through a pot still to create a rice spirit in Kagoshima, Japan
• Then, the rice spirit is distilled a second time through 2 different processes in a pot still and column still to create a uniquely flavored liquid
• Finally, the liquid is blended and then filtered through bamboo charcoal in Osaka, Japan
The resulting liquid's taste profile is clean, soft, and smooth with a sweet rice flavor.
Appearance / Color:
Clear
Nose / Aroma / Smell:
Soft, sweet and floral aroma of rice.
Flavor / Taste / Palate:
Opulent palate with the natural sweetness and complex flavor of rice.
Finish:
Smooth and lingering finish with a sophisticated background.