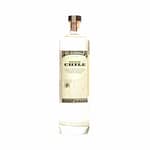 St George Green Chile Vodka 1.75 litre
Sale!
15%
St George Green Chile Vodka 1.75 litre
$89.00 
Product images are for illustrative purposes only and may differ from the actual product due to label and design changes. Please contact us first if you are looking for specific versions. Otherwise, we ship based on the product name.
This
St George
Green Chile vodka is made from a variety of California-grown hot and sweet peppers that build layers of sweet, savory heat. Lime peel and fresh cilantro add even more vibrancy and depth of flavor.
To make our St George Green Chile Vodka, we fill our 1,500-liter still with crushed jalapeno peppers. Lime peel, and a non-GMO base spirit and distill. This through a Carter head assembly that has been layered with fresh cilantro.
We infuse the other four types of peppers (Serrano, habanero, red and yellow sweet bell peppers) separately, and then blend each infusion with the distillate of jalapenos, lime, and cilantro. We then filter to remove visible impurities before bottling—the light green tint that remains is the result of the pepper infusion we perform just prior to filtration.
Looking for the perfect vodka for a Bloody Mary? You've found it. The St. George Green Chile Vodka packs a vibrant, evocative and subtly spicy punch. To make it, the Californian distillers fill their still with crushed jalapeño peppers, lime peel and a non-GMO base spirit and distil it through a carter head layers with fresh coriander ("cilantro" to them). They separately infuse serrano, habanero, red and yellow peppers, blend all of these with the jalapeño/lime/coriander distillate, give it a pepper infusion and filter out impurities. With a good balance of sweet and savoury, as we said before, this is exactly what you need for a Bloody Mary.
Nose:
Ooh – lots of fragrant chile here. Jalapeño at the fore, vegetal and juicy, with spicier habanero simmering in the background.
Palate:
Ridiculously unique. Crystal clear flavours of fresh chillies, cooled down slightly by the herbaceous coriander. Puts us in mind of good Mexican food.
Finish:
Surprisingly refreshing for something with the word 'chile' in its name!