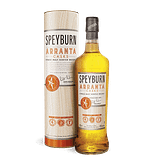 Speyburn Arranta Casks Single Malt Scotch 750ml
Sale!
Speyburn Arranta Casks Single Malt Scotch 750ml
-10%
Product images are for illustrative purposes only and may differ from the actual product due to label and design changes. Please contact us first if you are looking for specific versions. Otherwise, we ship based on the product name.
Inspired by the Gaelic word meaning 'intrepid and daring', Arranta Casks Single Malt has been crafted using specially selected, first-fill ex-bourbon casks in American Oak, to give this spicy Scotch whisky a uniquely bold and characterful flavor profile.  Our Distillery Manager hand-selects each one, marking it with his distinctive 'A-star' seal of approval.
Speyburn Arranta Casks is a limited edition, U.S.-only release of non-age stated single malt aged in first-fill ex-bourbon casks. It's bottled at a respectable 46% alcohol and comes in an attractive canister that shows off the "A-star" mark that Speyburn's distillery manager uses to mark barrels intended for this bottling.
Ex-bourbon barrels are pretty standard vessels for aging Scotch whisky. Thanks to American laws mandating bourbon producers use each barrel just once, there's a steady and inexpensive supply of them across the Atlantic. They're also relatively gentle on the aging malt, imparting flavors of vanilla, spice, and caramel without camouflaging distillery character the way over-exuberant sherry and wine casks can.
Arranta Casks is a U.S.-exclusive from Speyburn which hit the shelves in August 2015 as a limited release. "Arranta" translates to bold or daring in Scottish Gaelic, and to match that spirit, Speyburn utilized 100% first-fill ex-bourbon casks for aging, all of which were air-dried, and hand-selected for the expression by distillery manager Robert Anderson.
Nose:
A fruity nose with hints of orange, mandarin, and cooking apple. A touch of oak, peppermint, and spice.
Palate:
A light, gentle palate with soft malt, sweet, toasty barley with licorice and dried herbs.
Finish:
Just a touch of smoke trails off on the finish.