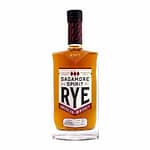 Sagamore Spirit Straight Rye Whiskey 750ml
Sagamore Spirit Straight Rye Whiskey 750ml
$116.98
Product images are for illustrative purposes only and may differ from the actual product due to label and design changes. Please contact us first if you are looking for specific versions. Otherwise, we ship based on the product name.
Sagamore Spirit Rye Whiskey – Aromas of vanilla, caramel, and baking spices. Traditional Maryland-style Rye Whiskey. Candied dried orange peel with notes of clove and nutmeg. Lingering hints of walnut and brown sugar to finish. Golden straw color.
A cask strength Maryland-style rye whiskey from Sagamore Spirits! The sweeter Maryland-style rye isn't seen all that often these days, though its importance to rye whiskey's history can't be understated. For this expression, Sagamore blend two ryes sourced from Indiana and add just a dash of spring water, resulting in a full-bodied, powerfully-flavoursome whiskey.
This rye whiskey was first released in early 2016, by Sagamore Spirit in Baltimore, Maryland. The whiskey is sourced from Indiana, matured in 53-gallon barrels for two years, before being cut down to the bottling strength of 83 proof using limestone-filtered spring water. The finished product is actually a blend of two rye recipes–one that is high rye-based and another that is low rye-based–developed by a team of experts led by master distiller Larry Ebersold, whose tenure at Seagram's spanned three decades. The Sagamore Spirit distillery is currently open and operational, with the brand putting away its own stock for future releases.
The nose is floral and fragrant, with honeycomb, hay, green oak, peppermint, and grassy-herbaceous notes. The palate is smooth but soft and a bit watery, with dry oak, citrus zest, rye spice, honey, and a bitter astringency towards the back. A peppery finish offers more oomph, with tannic oak and more of that herbal honey refrain, leaving you with a sensation you just finished a Ricola.
Nose: Heavy toffee and menthol, with layers of coffee bean and honey.
Palate: Cinnamon gum, orange boiled sweeties, hints of tobacco and dark chocolate develop later on.
Finish: Peppery notes linger on the finish, with some nutmeg and cooked apple.
| | |
| --- | --- |
| Category | Rye |
| Region | United States, Maryland |
| Brand | Sagamore Spirit |
| Proof | 83.00 |