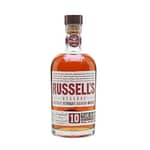 RussellS Reserve 10 Year Old Bourbon Whiskey 750ml
Sale!
RussellS Reserve 10 Year Old Bourbon Whiskey 750ml
-5%
Product images are for illustrative purposes only and may differ from the actual product due to label and design changes. Please contact us first if you are looking for specific versions. Otherwise, we ship based on the product name.
Russell's Reserve 10 Year is part of Wild Turkey's Russell's Reserve line named in honor of Jimmy and Eddie Russell, the father-son master distiller team that have a combined tenure at Wild Turkey in excess of 100 years. Russell's Reserve 10 Year is a small batch bourbon that's comprised of hand-selected barrels that have been aged for at least 10 years, but possibly more. Like all of Wild Turkey's bourbons, it's made from their single bourbon mash bill.
Only a handful of barrels are selected in small batches from the middle section of the "center cut" of the rick house by Master Distiller, Jimmy Russell, and his son, Associate Master Distiller, Eddie Russell. The whiskey ages for a minimum of 10 years in the deepest no. 4 char, or alligator charred barrels for richer color and deeper flavor.
Master distillers and premier whiskey makers Jimmy and Eddie Russell have brought nearly 100 years of combined experience to artfully crafting Russell's Reserve 10 Year Old Bourbon. This hand-selected small-batch bourbon has a rich, caramel and vanilla taste and a uniquely smooth finish.
NOSE:
Strong aromas of vanilla and caramel come forward, with whiffs of aged oak, graham cracker, and leather following. It's a strikingly quintessential bourbon aroma and given its lower 90 Proofpoint, surprisingly robust. Very pleasant overall offering little to take issue with.
palate:
Again quintessential bourbon flavors take the lead, with caramel and vanilla notes resting against tobacco and seasoned oak. A slight rye spice also weaves in but allows the other flavors to show more prominently. The bourbon has a nice mouthfeel, albeit slightly thin. No different than the nose, there is nothing at all off-putting, and the flavors present themselves in a very straightforward and matter-of-fact way.
finish:
Rye spice reaches its crescendo in the finish, leading the charge as the flavors climax in full force. The spice quickly fades, revealing vestiges of toasted marshmallows, leather, tobacco, and again, fairly prominent caramel and vanilla notes. It turns slightly dry as it fades away but leaves a warming feeling in your chest.