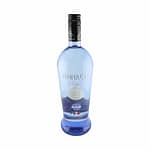 Pinnacle Whipped Vodka 750 ml
Sale!
10%
Pinnacle Whipped Vodka 750 ml
$75.00 
Product images are for illustrative purposes only and may differ from the actual product due to label and design changes. Please contact us first if you are looking for specific versions. Otherwise, we ship based on the product name.
Pinnacle Whipped Vodka
Pinnacle Whipped Vodka Litre is distilled in France and then shipped to the good ole USA to be flavored. It's a combination of French experience in making a great tasting spirit, with American fun thrown into the mix.
The vodka is distilled five times, which means it doesn't have the chemical aftertaste of cheaper vodkas. Quality ingredients are used to make it, including:
Natural spring water filtered through limestone.
Wheat grows in Northern France's fertile soil and clay.
If you love vodka like we do, you'll know it can be an expensive hobby. It's often a tradeoff between getting the most enjoyable drink you can within your budget. Pinnacle's vodka is an affordable budget to mid-range spirit offering a large number of unusual flavorings. The cost for Pinnacle varies depending on whether you're drinking a straight up vodka or a flavored version.
Pinnacle Whipped Vodka is a fairly smooth easy drinking vodka coming in at a standard 70 proof. If however, you want something that offers a bit more kick, a 100 proof version is also available. One of Pinnacle's defining features, however, is its breadth of specialty flavors available at the 70 proof level. While distilled in France, Pinnacle takes a unique turn upon entering the United States where much of the base product is specially blended to create the diverse and unique flavored vodkas in the Pinnacle line up.
Testing Notes:
Boasting 30 different flavors that will be broken down below, the Pinnacle line up has something for every taste and occasion. Whether you want coffee, or citrus, sweet, or spicy, there is a Pinnacle flavor for you, and plenty of room to mix and match.