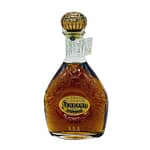 Pierre Ferrand Selection Des Anges Cognac 750ml
Pierre Ferrand Selection Des Anges Cognac 750ml
$415.00
Product images are for illustrative purposes only and may differ from the actual product due to label and design changes. Please contact us first if you are looking for specific versions. Otherwise, we ship based on the product name.
As Cognac matures in oak barrels, slow evaporation occurs, refining the quality and concentrating the finest flavors and aromas. For centuries, the alcohol that evaporates during the aging process has been known as the mythical "Angels' Share." What remains in the barrel is a small quantity of Cognac after many years of maturation and evaporation. Our ancestors called it the "Angel's Selection" and we call it "Pierre Ferrand Selection Des."
Produced by Pierre Ferrand, Sélection des Anges is a rich, old Cognac to which the Chicago Beverage Testing Institute awarded 95 points and a gold medal.
This fantastic Cognac from Pierre Ferrand is rich & old, which the Chicago Beverage Testing Institute awarded 95 points and a Gold Medal. 100% Ugni Blanc sourced from Grande Champagne, the most prestigious area in Cognac. Incredible package, incredible cognac.
A rich, fruity Cognac from Pierre Ferrand, Selection Des Anges offers notes of crystallized orange, dried rose petals, jasmine, violets, cinnamon, ginger, and nutmeg on the palate. Slowly notes of blossom honey, soft vanilla, and toasted hazelnuts develop.
Sélection des Anges translates roughly from to "angels' share". It is a blend of cognacs aged from 30-55 years old. Pierre Ferrand ages their cognacs in 270-liter Limousin oak barrels in seven different warehouses with varying temperatures and humidity levels. As a result, their Master Blender has many more choices he can draw from to create their bottlings.
Nose:
Honey and hints of soft oak. Vanilla, dried apricot, and cocoa butter.
Palate:
Saffron and gingerbread. A little manuka honey and cigar boxes.
Finish:
Cedar and mixed spices. Dried fruit.