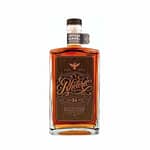 Orphan Barrel Rhetoric 24 Year Bourbon 750ml
Orphan Barrel Rhetoric 24 Year Bourbon 750ml
$925.00
Product images are for illustrative purposes only and may differ from the actual product due to label and design changes. Please contact us first if you are looking for specific versions. Otherwise, we ship based on the product name.
This Orphan Barrel Rhetoric 24 year old whiskey is from the dwindling bourbon stocks found in the old Stitzel-Weller warehouses in Louisville, Kentucky, and was distilled between 1990 and 1993 at the Bernheim distillery, "historically located at 17th and Breckenridge".
Orphan Barrel Rhetoric 24 year old has a mash bill that's 86% corn, 8% barley, and 6% rye. Official tasting notes suggest an "aroma of rich vanilla oak, brown sugar, and chocolate. Taste begins with orchard fruit accented with a hint of allspice and gives way to a warming finish with nutmeg and caramel notes.
Vital Stats: 90.6 Proof. $120/750ml. Aged 23 Years. Mash: 86% corn, 8% malted barley, 6% rye.
Appearance:
A brilliant burnt orange that shows some fine filtration. There appears to be a bit of water separation around the edges of the liquid. Legs are thin and lack luxuriousness.
Nose:
Immediately bursting out of the glass is a fun dichotomy of vanilla and citrus, which together recall candied apricots, creme brulee, and a tiny bright hit of ginger. Closer, deeper breaths focus on the wood, adding more complex notes of leather, marshmallow, clove, and even a bright cedar-like touch from that perceived hint of orange.
Palate:
There is a touch of brown sugar and vanilla in front, and then the taste becomes dominated by earthiness. The wood creates more bitterness than a newer, more pencil-like oak flavor. A ribbon of smokiness is present as well as dried hay, peanut skins, and a big hit of nutmeg.
FINISH:
The long oaky fade of caramel, clove, vanilla, and biscuits.
BALANCE, BODY & FEEL:
Decent balance, full heavy body, and a dry tannic feel.