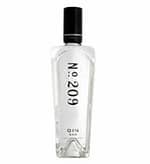 Sale!
10%
No 209 Gin Ou 750ml
$104.98 
Product images are for illustrative purposes only and may differ from the actual product due to label and design changes. Please contact us first if you are looking for specific versions. Otherwise, we ship based on the product name.
No 209 Gin Ou
No 209 Gin Ou is a surprising elder statesman among American gins. First produced in 2005, the distillery whose license was first awarded to a Mr. Scheffler in 1882, now sits in the famous San Francisco Bay. Distillery No. 209 restored the history from Scheffler's original Edge Hill site and now produces a line of gins including their flagship No. 209 Gin, as well as several barrel aged and kosher variants.
No 209 Gin Ou is pot distilled from a base spirit of corn. The botanicals are macerated over night before the final (and fifth distillation); though the distillery plays a bit secret with the exact number
Juniper, Which By Law Is Required To Be The Dominant Flavor In Any Gin, Is Only One Of Dozens Of Different Spices, Roots, Herbs And Berries That Can Be Used To Flavor Gin. Each Combination Creates A Unique Flavor. In Addition To Juniper, The Recipe For No. 209 Gin Includes Somewhere Between Eight And Eleven Different Botanicals – Vague, Yes, Secretive, Absolutely – Our Master Distiller Can Be A Conspiracy Theorist At Times. The Delicious Complexity Of No. 209'S Citrus Spice Flavor Profile Is Primarily A Result Of Bergamot Orange, Lemon Peel, Cardamom Pods, Cassia Bark, Angelica Root And Coriander Seeds.
The original 209 spirits were made in the 1880s at a distillery on the Edge Hill wine estate. Over a century later (in 2000), Leslie Rudd found the old distillery building after buying the estate and was inspired to build a new distillery and create a new No. 209 Gin.
Brand : No. 209
Flavor : Citrus, Pepper
Alcohol Content : 46 Percent by Volume
Alcohol Type : Gin Liquid
Volume : 750 Millilitres