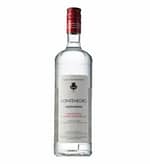 Montenegro Lozova Rakija Grappa 1L
Sale!
Montenegro Lozova Rakija Grappa 1L
-12%
Product images are for illustrative purposes only and may differ from the actual product due to label and design changes. Please contact us first if you are looking for specific versions. Otherwise, we ship based on the product name.
Montenegro lozova rakija grappa is a very strong alcoholic drink with 47 vol %, easy-drinking harmonious, of mildly developed aroma, made of the grape varieties vranac and kratoshija.
Crnogorska Lozova Rakija brandy is distilled from the finest dark blue grapes grown in the southern parts of Montenegro. It is an autochthonous Montenegrin product, belonging to the group of natural brands. It is made by the distillation of the whole crushed grapes.
Montenegro Lozova grape brandy is made with a combination of two indigenous grape varieties Vranac and Kratošija. Specifics of both varieties come to the fore by aging in inox tanks at least a year. This brandy is colorless, with mildly developed aromas distinctive for Vranac and Kratošija, rounded taste, and very drinkable. With a special selection of grapes, processing methods, and distillate blending, from year to year, this brandy is of high quality.
Kruna is a colorless, hard alcoholic drink with 50% alcohol, very potable, harmonious, full, and warm mouthfeel. Wine smell strongly expressed with mild pomace smell afterward. Kruna is a premium brandy, made in the small volume copper vats, in the manner in which it had been made for centuries in Montenegro.
The grapevine twigs and old branches from the A†emovsko field are placed under the copper vats from the A†emovsko field. Distillation runs very slowly with good cooling in order to achieve better quality.
It is only the middle fraction ('heart') of the distillate that is separated, laying down in the vats of the inert materials 1-2 years at least, after which a potable and mild grape brandy of a specific and lingering varietal aroma is made. It is served at 5-7°C.
It is recommended both before and after the meal and may be used for preparing cocktails, as well.