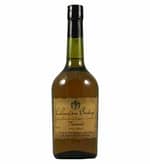 Menorval Calvados Prestige
Sale!
10%
Menorval Calvados Prestige
$92.98 
Product images are for illustrative purposes only and may differ from the actual product due to label and design changes. Please contact us first if you are looking for specific versions. Otherwise, we ship based on the product name.
Menorval Calvados Prestige is an apple Brandy from Normandy, France. Menorval Prestige is aged for 2-3 years in oak casks to mellow it into a smooth, fresh spirit with pure red apple aromas and flavors followed by a whiff of toffee and vanilla. Great as an after dinner digestif but at a price that can be used in recipes like a classic braised chicken with apples and Calvados.
Made with brandies aged two to three years, this Menorval Calvados Prestige features a ripe pear aroma. It's a bit tannic and drying, with a resin-like note upfront. That mellows into chamomile tea and sandalwood, plus baked pear and baking spice on the finish.
This is the youngest and fruitiest Calvados in our range. Blended from 100% Pays d'Auge Calvados, it is true to the region, fresh and fruity, with a pronounced apple nose and finish. The fruit and fire are harmonious. This is the blend they recommend for cooking. As the alcohol leaves, the fresh fruit remains. It is especially good with pastries.
Amber with light golden fringes. The nose is bold and sweet. It is reminiscent of stewed apples with a bit of clove and cinnamon spice and a touch of saltiness. Bold on the palate with aggressive alcohol heat and rich oak. The apple flavor is present but there are strong notes of caramel and the finish is a bit harsh. There is a nice maritime influence throughout the palate.
The youngest Calvados in Menorval's range, this is all about fresh, fruity notes with just a touch of spice and honey. Good balance between freshly cut and stewed apple, this would make a wonderful aperitif.