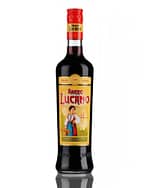 Sale!
Lucano Amaro 750ml
-20%
Product images are for illustrative purposes only and may differ from the actual product due to label and design changes. Please contact us first if you are looking for specific versions. Otherwise, we ship based on the product name.
Amaro Lucano was created in 1894 by Pasquale Vena in the backroom of his biscuit bakery, in the small town of Pisticci in the province of Matera in Basilicata, Italy.
Amaro Lucano is made with Roman wormwood, Absinthe Wormwood, Clary Sage Flower, Musk Yarrow flower, Holy Thistle flower, bitter orange peel, gentian, angelica, elderflower, Ruta, and aloe. In 1965, the production of Amaro Lucano moved from Pisticci to a new plantar Pisticci Scalo.
Today the Lucano Company is run by Pasquale Vena, the founder's grandson, his wife Rosistella, and their sons Leonardo and Francesco.
Sophisticated Exploration Of Over 30 Herbs, The Scent Of Sultana, Dried Lavender, Fennel, And Cola Funnel Through The Nose While Sweet Herbs And Black Tea Unwind On The Palate. Enjoy This Neat, Chilled, Or With Some Citrus Zest.
Lucano Amaro is made in the town of Pisticci Scalo in Basilicata, Italy. It is made from more than 30 herbs and spices some of which are disclosed. They include angelica root, bitter aloe, bitter orange, blessed thistle, clary sage, elderberry, gentian, musk yarrow, Ruta, and woodworm. The company was founded in 1894 by Pasquale Vera and is now run by his grandson, his namesake, and his family.
The Amaro Lucano, produced in Basilicata, is made based on an ancient recipe using rare herbs and roots with an unmistakable flavor. Richly textured and possessing equal amounts of sweetness, spiciness, and bitter herbaceousness, this is one of the most complex and traditional Amari out there.
Appearance:
Clear, deep tawny brown with bronze flecks.
Aroma:
Pine, lavender, eucalyptus, cola, and orange peel with curry leaf and cardamom.
Taste:
Underlying quinine and gentian bitterness with balancing sweetness, spearmint freshness, herbal complexity, and mild spice.
Aftertaste:
Long warming herbal finish.
Overall:
Rich and syrupy with balancing bitterness, enlivening spice, and herbal complexity.