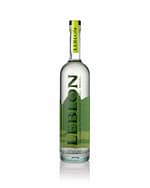 Sale!
5%
Leblon Cachaca 750ml
$96.98 
Product images are for illustrative purposes only and may differ from the actual product due to label and design changes. Please contact us first if you are looking for specific versions. Otherwise, we ship based on the product name.
A Brazilian Cachaça made from freshly-cut sugar cane juice. Leblon Cachaca is aged in French oak XO Cognac casks for up to three months and offers a complex palate of vegetal, herbal notes. It was awarded Gold medals at four consecutive San Francisco World Spirits Competitions.
Leblon is a rather tasty posh cachaça aged in French oak barrels. Smooth and with no burn, this is good stuff.
Leblon Cachaca is made from fresh cane juice obtained within three hours of harvesting by pressing only the middle and best part of the sugar cane. This fresh sweet juice is fermented and then distilled using an alembic copper still. The cachaça is then aged in ex-cognac casks for one month.
Leblon Cachaca was launched in September 2005 by a former executive at LVMH, Steve Luttman, and ten partners. They raised $2 million to launch their spirit which takes its name from Leblon Beach in Rio de Janeiro.
Leblon Natural Cane Cachaca, handcrafted from Brazil. Fresh-pressed cane juice micro-distilled in Alambique pot still at the Maison Leblon in Minas Gerais, then rested for six months in vintage French oak barrels. The result is a lively, fruity nose with complex layers of flavors and an ultra-smooth finish. Drink neat, with fruit juice, or in a Caipirinha —the simply delicious and treasured Brazilian National cocktail.
Appearance:
Crystal clear.
Aroma:
Pungent. Tinned sweetcorn, grassy sugar cane, and faint unsalted butter.
Taste:
Clean and Intense. Distinctive cachaça grassy and sugary sweetness with cleansing white pepper spice.
Aftertaste:
Long, slightly spicy, grassy/strawy finish. Overall: Clean and full-flavored, Leblon is a good and easily accessible example of what a cachaça should be.