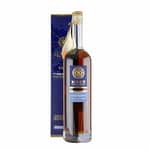 Kelt Vsop Cognac Tour Du Monde 750ml
Sale!
Kelt Vsop Cognac Tour Du Monde 750ml
-20%
Product images are for illustrative purposes only and may differ from the actual product due to label and design changes. Please contact us first if you are looking for specific versions. Otherwise, we ship based on the product name.
Kelt VSOP Cognac Tour du Monde cognacs undergo a 90-day voyage at sea while aging; with the variances of movement, air pressure, and temperature while at sea contributing to the cognac's unique aging process. This Grande Champagne VSOP is a secret blend of young and old cognacs that have aged 4 to 12 years in French Limousin oak.
Focused tastes of ripe grapes, old oak resin, and candied nuts greet the taste buds; midpalate shows a bit of fire along with fruit, wood, and spirit. Finishes sweet, balanced, and fruity.
Tour du Monde:
Until the early 1900s, all cognac was shipped in barrels. The long sea-voyages had a profound effect on the quality of the cognac. When cognac started to be shipped in bottles the magical effect was lost. Until now.
The Kelt VSOP Cognac, still in Limousin oak barrels, undertakes a 3-month sea voyage around the world. The combination of movement, temperature variations, air pressure changes, and the magic of the seas during this 90-day sea voyage, creates a seamless perfection in the blend as well as an unrivaled smoothness that is characteristic of the Kelt cognacs.
KELT VSOP:
A traditional Grande Champagne VSOP which is allowed to age much longer than the legal minimum of 4.5 years in its Limousin oak barrels forms the base for this renowned VSOP cognac. It is blended with much older cognacs to receive the quality level required of a Kelt cognac.
Once the blending is completed they embark on the Tour du Monde, described above. This is the legendary 3 month Ocean Maturation exclusive to Kelt which brings out hidden qualities in the Limousin oak and rounds off the cognac in a beautiful and unique way making the Kelt cognac the smoothest on the market while presenting a remarkably broad pallet of tastes and aromas.