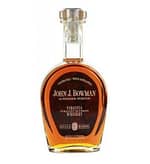 John Bowman Single Barrel Virginia Straight Bourbon 750ml
Sale!
15%
John Bowman Single Barrel Virginia Straight Bourbon 750ml
$188.98 
-22%
Product images are for illustrative purposes only and may differ from the actual product due to label and design changes. Please contact us first if you are looking for specific versions. Otherwise, we ship based on the product name.
John Bowman Single Barrel were Virginia militia officers in the American Revolutionary War. In 1779, they led 30 pioneer families to Madison Family County, Kentucky, and established Bowman's Station. Their great, great-grandson, Abram S. Bowman, purchased Sunset Hills estate farm located in northern Virginia in 1929. Following the repeal of Prohibition, he found himself with an excess of corn, wheat, and rye by 1935 and opened a distillery on the property. The current A. Smith Bowman Distillery is located about 60 miles from the original distillery in Spotsylvania County, Virginia. It opened in 1988 and began distilling spirits in 1991. John J. Bowman Single Barrel Bourbon is named after Colonel Bowman who was the first military commander and governor of Kentucky County.
Whisky Advocate, 89 Points – triple-distilled Bourbon From Virginia. Actively Aromatic, Blowing Right Out Of The Glass: Tart Berries, Hot Corn, Oak, And Stick Cinnamon. Hot, But Surprisingly Soft And Light For 50% (Triple Distillation?), With Sweet Corn And More Of The Berries, Wrapped In Oak And A Touch Of Char. Everything Persists To The Finish, Including The Heat, Leading To A Twist Of Oak At The End. Manages To Be Big But Light At The Same Time.
Our John Bowman Single Barrel Bourbon commemorates the great, great uncle of Abram S. Bowman, who founded A. Smith Bowman Distillery. We hand select some of the oldest barrels in the warehouse to produce a single barrel bourbon with hints of toffee, leather, figs, and almonds. John. J. Bowman was awarded World's Best Bourbon in 2017.
Nose:
Baking chocolate, baked bread, oak, vanilla, and green apple, and a dash of toffee lead the way. A light tingling of ethanol is present but not so much to be distracting. The aromas aren't overly strong, but more subtle and pleasant to the senses.
Palate:
Taking a large sip reveals classic bourbon undertones with a touch of sweetness. It's a creamy bodied bourbon that offers rich flavors. Rich malted chocolate, oak, vanilla, and hints of corn syrup immediately jump out. This is a bourbon that plays it safe in the sense that you won't be overwhelmed with a massive set of flavors to dissect. That said, while it doesn't have that wow factor of a standout bourbon, it sure doesn't disappoint in what it delivers either.
Finish:
Balanced and long. Warming heat slowly builds as it makes its way down your throat. A hint of spice in the form of green pepper, along with chocolate, leather, oak, and hints of vanilla starts the finish. These flavors morph to light traces of chocolatey caramel that coat the mouth, and linger for a long time between sips. Balanced, flavorful, and unpretentious, the finish nicely encapsulates what this bourbon is all about.
| | |
| --- | --- |
| Category | Bourbon |
| Region | United States |
| Brand | John Bowman |
| Proof | 100.00 |