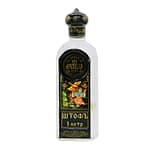 Jewel Of Russia Ultra Hand Painted LTD Vodka 1ltr
Sale!
Jewel Of Russia Ultra Hand Painted LTD Vodka 1ltr
-20%
Product images are for illustrative purposes only and may differ from the actual product due to label and design changes. Please contact us first if you are looking for specific versions. Otherwise, we ship based on the product name.
Jewel Of Russia Ultra Hand Painted LTD Vodka
Jewel of Russia brand uses a blend of hard winter wheat and rye using water drawn from deep artesian wells. It is distilled 5 times, then filtered 5 times, each using the usual Russian method of paper, sand, then finally through specially-modified charcoal made from the stones of peaches and apricots, a special technique of the Chernogolovka distillery. Produced at a new distillery founded in 1995, and given the "luxe" designation of the highest grade of vodka by their government.
Jewel Of Russia the ultimate Russian Vodka. By combining authentic Russian character with exceptional silky smoothness, this vodka ascends well above existing Premium vodka brands to the levels of a true work of art, beyond the Super-Premium classification.
The ancient recipes are revived to produce Ultra vodka, but the distilled spirits used to prepare this vodka undergo additional rectification treatment to practically eliminate the traces of congeners present in all lower quality vodkas. Special proprietary techniques are used to restore the original historic taste of Russian vodka.
The packaging of our Limited Edition line is exceptional. Each bottle is also a work of art, with a traditional Russian miniature hand-painted on each bottle, and individually signed by the artist.
The Ultra bottle has a dome-like hand-painted cap cover that together with the painting makes it a perfect gift. It is also an attractive item for display or for collectors, because the scenes are changed on a regular basis.
The total availability of the Ultra Limited Edition in the U.S. is 2,000 bottles a month.
Appearance:
Crystal clear.
Aroma:
Clean cracked black pepper corn spirity nose with faint aniseed, lemon zest and bready aromas.
Taste:
Starts slightly oily and sweet, going some way to counter aggressive black pepper spirity attack. Faint bread, grain and what I can only describe as artificial lemony notes struggle for attention over the peppery spice.
Aftertaste:
Black pepper spice dominates the finish.