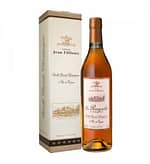 Jean Fillioux La Pouyade Vieille Grande Champagne 1Er Cru De Cognac 750ml
Sale!
15%
Jean Fillioux La Pouyade Vieille Grande Champagne 1Er Cru De Cognac 750ml
$184.98 
Product images are for illustrative purposes only and may differ from the actual product due to label and design changes. Please contact us first if you are looking for specific versions. Otherwise, we ship based on the product name.
Jean Fillioux La Pouyade Vieille Grande Champagne 1Er Cru De Cognac
Situated in the golden triangle of the grande champagne region, Jean Fillioux La Pouyade enjoys a rolling Campanian landscape along with rich, cretaceous soils. As a result of its unique terroir and four generations of family experience, the house is known to produce some of the finest cognacs in the world.
A bottle of Jean Fillioux Tres Vieille Cognac, made using grapes grown exclusively in the Grande Champagne cru. The Fillioux family has been making Cognac since 1880.
Jean Fillioux La Pouyade tres Vieille grande champagne cognac is made exclusively from ugni blanc grapes harvested on the fillioux estate. Once the grapes are harvested in late September or early October, they are immediately pressed into a grape must.
The must enjoy a high acidity and is lacking in tannins, making it ideal for fermentation and distillation. After fillioux has fermented the must into wine, he distills the wine twice through a traditional, antique charentais-pot still.
Following distillation, the cognac is aged for a minimum of 25 years in a combination of new and used oak casks. The secret to producing exquisite cognac, fillioux says, is having the requisite patience to watch and taste the cognac as it matures. During the maturation process, pascal tastes each barrel, noting its aroma and flavor profile.
As the cognac continues to age, he transfers it as necessary to different barrels and stores the barrels in different areas of his vault in order to ensure that after a quarter-century, the cognac is blessed with a consistent, rounded flavor profile.
Testing Notes:
Jean fillioux tres Vieux has an aroma of vanilla and orange marmalade, which leads to strong notes of jam, quince, pear, and creamy vanilla. The finish, which is textured and everlasting, ends with a touch of oak and spices.