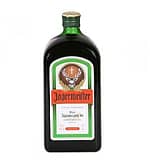 Jagermeister 750ml
$76.98
Product images are for illustrative purposes only and may differ from the actual product due to label and design changes. Please contact us first if you are looking for specific versions. Otherwise, we ship based on the product name.
Jagermeister is produced by steeping 56 herbs and spices including ginger, anise. Citrus peel and juniper in alcohol and water for a few days before storing it in oak for a year and sweetening it. It was created in 1934 by Curt Mast, the son of a vinegar maker and wine trader. An avid hunter who chose a name for his elixir that translates to "master hunter" and adorned the label with a drawing of a stag. American importer Sidney Frank is credited with its popularity in the United States. Positioning it in the 1980s as a party drink.
The inclusion of all those botanicals also makes it incredibly useful behind the bar as either a base spirit or modifier. according to Joe Zakowski, a bartender at Mother's Ruin and No. 308 in Nashville. He likens the liqueur to an old friend. "It just sits right with me," he says. "When I'm not in the mood for anything else, I can still drink Jägermeister; it's like mother's milk."
However, Jägermeister does have a place in "fancy" cocktails, and it adds a complex, herbal profile to drinks. As more drinkers realize that it can be used to make truly impressive cocktails, the liquor is finding a new home in the bar. And of course, it still used in shots, some of which are surprisingly delicious.
Jagermeister is German for the master of the hunt. The label is part of an old tale of Hubertas, who created the drink. After his wife died he walked to the woods to go hunting and saw a stag with a cross betwixt its antlers.
Nose:
Herbal, citrusy, intense nose.
Palate:
Spiced, sweet. Fruity, with candied orange rind, nutmeg and pepper.
Finish:
Peppery, fruity.