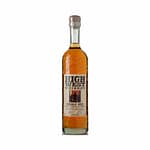 High West Double Rye! Whiskey 750ml
Sale!
High West Double Rye! Whiskey 750ml
-20%
Product images are for illustrative purposes only and may differ from the actual product due to label and design changes. Please contact us first if you are looking for specific versions. Otherwise, we ship based on the product name.
High West Double Rye! is made by blending two very distinct rye whiskies together, a lively 2-year-old and a sweeter 16-year-old that was made with a higher proportion of corn. It's the kind of idea that makes everyone in the saloon stop and stare, including the old fella playing piano in the corner.
The result is a mighty fine whiskey with a good kick from the younger rye and lasting refined flavour from the elder. Yee-haw! Get along, now!
High West Double Rye is Utah's first legal distillery since 1870 and the world's only ski-in gastro-distillery. If you find yourself in Old Town Park City, please stop by to visit us. We'd love to share our passions with you: the American West, our contemporary western victuals, American roots music, and of course, pairing all the above with our greatest passion superb whiskey. Better yet, you ought to come out to our distillery in the mountains of Wanship, Utah. It's a celebration of cowboys and the American West.
Toasted caramel, grilled orange, and a blast of dried herbs flow from the glass of this delightful rye. The has huge complexity palate balancing maturity and youth alternating waves of sublime confectionary tones and invigorating adolescent spice.
Nose:
Complex, with a distinct "young rye" eucalyptus/menthol note that is well-balanced and held in check by a malty sweet cinnamon-roll character, complete with that sinful white confectioner's glaze. Deeper in the glass, there are some rye grain and flour notes (bready, yeasty, nutty).
Palate:
Syrupy body. Moderate to severe tongue burn a little hot for 46% ABV. Again, the sweetness of the older rye perfectly balances the vibrancy and grassiness of the younger. Both are detectable. Toasty, nutty, sweet, and complex. Nice.
Finish:
Medium or medium-long. All of the previous notes continue into the finish. Fades with a dash of charcoal, but no bitterness.