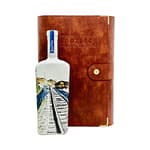 Heavens Door Bootleg Series 26 Year Old Mizunara Oak Whiskey 750ml
Sale!
Heavens Door Bootleg Series 26 Year Old Mizunara Oak Whiskey 750ml
-5%
Product images are for illustrative purposes only and may differ from the actual product due to label and design changes. Please contact us first if you are looking for specific versions. Otherwise, we ship based on the product name.
Heaven's Door Bootleg Series  – A premium expression of Dylan's creativity, the 2019 edition of The Bootleg Series is a 26-year-old whiskey finished in Japanese Mizunara oak casks presented in a ceramic bottle adorned with one of his most celebrated paintings, Train Tracks. This collectors bottle rests in a rich leather case, making this whisky an artful experience from start to finish.
The Heaven's Door whiskeys were launched in early 2018 as a trio of American whiskeys, having been designed to be approachable for Dylan's laid-back fan base and not just whiskey aficionados. Heaven's Door is a collaboration between the well-known musician Bob Dylan and co-founder of Angel's Envy, Marc Bushala. The name of course, was inspired by Dylan's song Knockin' on Heaven's Door.
Tasting Notes Of Heaven's Door Bootleg Series
Vital Stats:
 111.5 proof, 55.75% ABV. Aged 26 years and finished in Mizunara Oak barrels. Low rye mash bill. ~ $499 per 750ml bottle.
Appearance:
 Somewhere between a pale gold and a bright orange. The bottle comes with an individually numbered leather case to make it a collector's item. The bottle itself is ceramic and hand-made, featuring one of Bob Dylan's own paintings.
Nose: 
This one begins with plum and raisin, then delves into a light nuttiness. There's also some background notes of vanilla bean and oak.
Palate:
 A medium bodied whiskey with a fairly long finish. Flavors of honeydew, vanilla, and a touch of clove spice. Given, the higher proof, adding a few drops of water bring out some of the more floral notes.