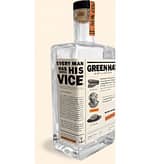 Green Hat Navy Strength Gin
Sale!
Green Hat Navy Strength Gin
-20%
Product images are for illustrative purposes only and may differ from the actual product due to label and design changes. Please contact us first if you are looking for specific versions. Otherwise, we ship based on the product name.
Green Hat Gin is distilled at the New Columbia Distillers in Washington DC, the first distillery to operate in the city since Prohibition. Their base for the gin is made from winter wheat which is milled, mashed, fermented and distilled on site. This navy-strength edition of Green Hat's gin increases the proof to 114.3.
Distilled By Hand From 100% Grain And Select Botanicals In Small Batches In A Copper Pot Still. This Limited Edition Gin Is The Essential Seasonal Addition To Your Bar. Navy-strength gins are best approached with caution. At 114.3 proof, the more subtle flavors present in Green Hat's gin can get lost in the heat, leaving juniper to dominate. This is a spirit made for mixing, however, and that strength is a virtue in, say, a Martini, where dilution with ice and vermouth brings out its spice and citrus notes.
Navy Strength Spirits Are Traditionally Stronger (Higher Proof) Than Their Non-Nautical Counterparts. Back In The Day When Sailors Were Given A Daily Ration Of Gin Or Rum, They Would Occasionally Mix Their Liquor With Gun Powder And Try To Ignite It. If The Powder-Liquor Brew Ignited, They Knew Their Liquor Wasn't Watered Down. Gun Powder Will Ignite If The Liquor It's Mixed With Is At Least 114 Proof.
Origin: : District Of Columbia
Spirit Type: : Gin
Spirit Style : Navy Strength Gin
Abv : 57.20
Proof : 114.40
Tasting Notes Of Green Hat Navy Gin
Aroma:
Spice Driven, Peppery, Clear Juniper
Taste:
Spice Driven Gin With Ginger, Cinnamon, Juniper, Pepper
Finish:
Textured And Full, Bold