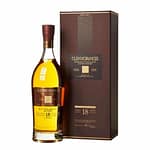 Glenmorangie 18 Year Old Scotch Whisky Extremely Rare 750ml
Sale!
5%
Glenmorangie 18 Year Old Scotch Whisky Extremely Rare 750ml
$275.00 
Product images are for illustrative purposes only and may differ from the actual product due to label and design changes. Please contact us first if you are looking for specific versions. Otherwise, we ship based on the product name.
Glenmorangie 18 Year Old Scotch Whisky Extremely Rare
The 18 Years Old is a single malt Scotch whisky of serious distinction. Once it has spent fifteen years maturing in American white oak casks approximately 30% is transferred into Spanish Oloroso casks to spend a further three years maturing. Then, when both elements have reached 18 years, we blend them back together to create a whisky with a rich bouquet and full, rounded flavor.
Part of Glenmorangie's Prestige Range, this 18 year old spent its first 15 years in American white oak bourbon casks. After this time, 30% was transferred to Oloroso sherry casks where it spent its final days, as the rest remained in bourbon casks. After 18 years has passed in total, the whisky was reunited and bottled at 43% ABV. A thick, creamy, and fruity single malt presented in a wonderfully elegant bottle. It certainly looks prestigious.
For a whisky of this age, this expression has maintained, thanks to our delicate floral spirit and fine Oloroso casks, an incredible degree of vibrancy where the raisiny sweetness of the sherry has been toned down by the nuttiness of the American oak.
The 18 year old has always been one of the best of Glenmorangie's core range and, in common with all Glenmo's offerings these days, it really looks the part. Picked up the top prize in its category at the World Whisky Awards 2010.
Nose:
Creamy and tangy notes of citrus, cinnamon, stewed fruits, and caramel-drizzled pannacotta.
Palate:
The palate is tropical and creamy with nectarines in yogurt, acacia honey, peaches in cream, and butterscotch.
Finish:
Ends on tangy oak and grilled grapefruit with plenty of dark sugar caramelized on top.