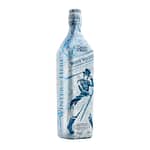 Game Of Thrones Johnnie Walker White Walker Scotch Whisky 750ml
Sale!
15%
Game Of Thrones Johnnie Walker White Walker Scotch Whisky 750ml
$105.00 
Product images are for illustrative purposes only and may differ from the actual product due to label and design changes. Please contact us first if you are looking for specific versions. Otherwise, we ship based on the product name.
White Walker by Johnnie Walker – Blended Scotch Whisky White Walker is a limited edition whisky inspired by HBO's Game of Thrones series. Evoke the presence of the White Walkers. This whisky carries the chill of winter – with its blue and white design, it will be easier to transport you to the North to join forces with the Night King. Whisky experts recommend taking this exclusive, classic whisky straight from the freezer. It's the product of careful blending – a skill considered to be both an art and a science.
A brand-new, limited-edition blend from Johnnie Walker inspired by Game of Thrones, this is a light and fruity whisky designed to be sipped straight from the freezer and allowed to develop as it warms. With notes of vanilla and fresh fruit, this is the perfect dram for both Game of Thrones fans and fledgling whisky enthusiasts.
SPIRITS STYLE : Blended Scotch
TASTE : Delicate, Vanilla, Berry, Balanced
Tasting Notes Of Johnnie Walker White Walker
Nose:
Soft hints of orange Fruit Pastilles and dried apricot. Toffee, vanilla pod and ginger snaps.
Palate:
More vanilla again, this time paired with cinnamon and almond. Hints of fresh cherry and cut oak heat.
Finish:
Lingering peppery malt and festive spices.