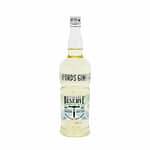 Fords Officers Reserve Navy Strength Gin Maiden Voyage 750 ml
Sale!
Fords Officers Reserve Navy Strength Gin Maiden Voyage 750 ml
-20%
Product images are for illustrative purposes only and may differ from the actual product due to label and design changes. Please contact us first if you are looking for specific versions. Otherwise, we ship based on the product name.
Fords Officer's Reserve Gin is distilled in London at Thames Distillers, and is a collaboration between 8th generation Master Distiller Charles Maxwell and Simon Ford of The 86 Co. The mix of 9 botanicals starts with a traditional backbone base of juniper & coriander seed that's balanced with citrus (bitter orange, lemon & grapefruit peels), floral (jasmine flower & orris) and spice (angelica & cassia). The botanicals are steeped for 15 hours before distillation in 500 liter stills.
Fords Officer's Reserve Gin Over-Proof and Navy Strength is based on a traditional London Dry Gin recipe from Thames Distillers using 9 botanicals. It is then cask finished using select 64 litre size oak barrels before being cut to 109 proof. Over-Proof Gin was a privilege once reserved exclusively for the officers of the British Merchant Navy. It was often stored in Sherry casks (typically from Jerez), that would impart characteristics to the distillate, passing on additional flavors from being over-proof. With its short time within cask, these liquid stowaways didn't usually last long.
Inspired by this story, 86 Co started tinkering with new ways to experience and enjoy Fords Gin. They have titled this gin adventure, 'Journeys in Gin', and Fords Gin Officers Reserve, rested in Amontillado Sherry Casks, is the Maiden Voyage