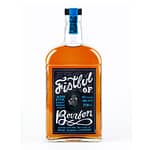 Fistful Of Bourbon Whiskey 750ml
Sale!
Fistful Of Bourbon Whiskey 750ml
-15%
Product images are for illustrative purposes only and may differ from the actual product due to label and design changes. Please contact us first if you are looking for specific versions. Otherwise, we ship based on the product name.
Fistful Of Bourbon Whiskey
Fistful Of Bourbon Whiskey is the first American whiskey created by William Grant & Sons. We have been blending award-winning whisky for generations. William Grant & Sons is a family-owned Scottish company that owns many notable scotch distilleries such as Glenfiddich and Balvenie. They also own many other spirits companies: Tullamore Irish Whiskey, Hendrick's Gin, and Sailor Jerry Rum to name a few. Up until recently their brand portfolio didn't include bourbon.
Classification: Blend of Straight Bourbons
Company: William Grant & Sons
Distillery: Undisclosed Distilleries
Released: Ongoing
Proof: 90
Age: 2 Years (Minimum)
Mashbill: Undisclosed
Color: Amber
Tasting Notes Of Fistful Of Bourbon Whiskey
NOSE
A very bright and expressive aroma that starts with pear, green apple, and mint, before following with sweet corn and lemon. It's not overly complex by any means but satisfying nevertheless. There's only a slight twinge of oak, which is probably due to its overall age, yet it lacks any overpowering grain or ethanol notes that's typical of young whiskey.
Palate
A nicely layered flavor profile immediately jumps out at you. It's quite floral at first sip before transitioning to lemon, corn, toffee, vanilla, and oak. It's a gentle evolution from lighter and citrus notes to dark and heavy notes that keeps the bourbon interesting throughout its sip.
Finish
The heavier flavors of the palate are carried over to the finish along with a touch of heat, anise, toasted nuts, and a dash of cinnamon, before settling on oak. It's an appropriate ending given the flavor journey this bourbon takes you on. Adequate complexity and intensity helps end the bourbon in a satisfying place.