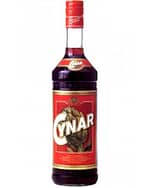 Cynar 1 Liter
$80.98
Product images are for illustrative purposes only and may differ from the actual product due to label and design changes. Please contact us first if you are looking for specific versions. Otherwise, we ship based on the product name.
Cynar is an artichoke based bittersweet liqueur known for its versatility and distinctive flavor.
Its taste is enriched by an infusion of 13 herbs and plants. The name of the drink derives from Cynarscolymus, the botanical name for artichoke, as artichoke leaves lend a distinctive flavor.
The secret recipe, which has remained the same since its creation, is based on some of the natural substances found in the artichokes, including 'cynarine'.
Created by Angelo Dalle Molle, a Venetian entrepreneur, and philanthropist, Cynarwas launched in Italy in 1952. Since then, the brand has grown and is now distributed internationally.
Cynar became popular in Italy thanks to the first ads (during the Italian "Carosello") performed by the famous actor, Ernesto Calindri and the claim "Cynar, against the attrition of modern life".
Thanks to its refreshing and herbal bittersweet features and its moderate abv (16,5%), Cynaris an ideal pre or post-dinner drink, and a bartender favorite to create "pungent" and original cocktails.
Cynar (Chee-nar) is a distinctive, 100% natural Italian amaro made from a blend of artichoke leaves and 13 carefully selected herbs infused in an alcohol base. It is considered a digestif, a traditional Italian spirit consumed after a meal to aid in digestion.
Cynar's unique bitter and herbal taste can be enjoyed on the rocks, with soda, or in any number of complex cocktails crafted by mixologists around the world. The name Cynar comes from "cynarin," which is a property found in artichokes.
Nose:
Intense aroma.
Palate:
Distinctive bitter taste.
Finish:
It stimulates the senses, instantly transporting you to their homeland.