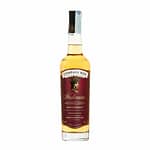 Compass Box Hedonism Blended Grain Scotch Whisky 750ml
Sale!
15%
Compass Box Hedonism Blended Grain Scotch Whisky 750ml
$255.00 
Product images are for illustrative purposes only and may differ from the actual product due to label and design changes. Please contact us first if you are looking for specific versions. Otherwise, we ship based on the product name.
A delightful blended grain whisky, Compass Box Hedonism Whiskyreally is as enjoyable as the name suggests. Exclusively matured in American oak barrels, the result is a smooth and creamy offering from Compass Box. A terrific blended grain whisky (the first of its type when released in 2000) from tireless innovators Compass Box. Supple & silky, with elegant, rich flavours of vanilla, toffee, coconut and cocoa.
Hedonism by John Glaser's Compass Box is an oddity in the scotch world. It is scotch, because it is whisky made and aged in Scotland, but it is actually a blended grain scotch whisky. This is not the same stuff that goes into Johnnie Walker Black Label or Chivas 12. In fact, if Diageo and Chivas and all the rest used this kind of grain whisky to make their blends, us whis
TASTE : Delicate, Tropical, Creamy, Balanced
Tasting Notes Of Compass Box Hedonism Whisky
Nose:
Sweet dairy cream, malted milk balls, fresh yeasty bakery bread. Vanilla in spades. Lots of nose tickle – practically crawls up your sinuses. Deep in there is a paint thinner quality, but it is masked by the immediate creamy sweetness of the grain.
Palate:
Immensely creamy body. Cinnamon, nutmeg, powdered sugar. Depths of vanilla custard and almond butter.
Finish:
Crisp and clean, if somewhat brief. Shortbread, marzipan and roasted almonds. No bitterness to speak of. Very elegant.