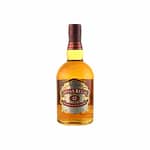 Chivas Regal Blended Scotch Whisky 750 Ml
Sale!
Chivas Regal Blended Scotch Whisky 750 Ml
-10%
Product images are for illustrative purposes only and may differ from the actual product due to label and design changes. Please contact us first if you are looking for specific versions. Otherwise, we ship based on the product name.
Chivas Regal 12 Year Old is a blended scotch whisky crafted for a smooth, warm taste and mouthfeel from scotch whiskies that are at least 12 years old. Chivas Regal 12 Year Old is delicate on the nose with a bouquet of fruit, aniseed, toffee, and wild herbs. Round and creamy on your palate, you experience a bold taste with notes of honey, apple, caramel, and vanilla.
While Chivas Regal 12 Year Old is easily enjoyed neat, with a splash of water, or on the rocks, it is also a favorite ingredient to many delicious cocktails including the classic Old-Fashioned. Whether you are enjoying a day appreciating the outdoors or spending an evening indoors with friends, Chivas Regal 12 Year Old is a go-to spirit.
Chivas Regal is a world-famous Scotch blend that was first made in the early 20th century by Chivas Brothers. The company can trace its roots back to 1801, with the opening of grocers at Number 13 King Street, Aberdeen.
Selling luxury food, coffee, and spices, it wasn't until half a century later that the company started to make whisky, and then not until post-US Prohibition that Chivas Regal 12 Year Old was first officially released. F. Paul Pacult described Chivas Regal 12 as "the blend for grown-ups", awarding it an impressive 9 out of 10.
It's a very apt statement – this is a very refined blended whisky, with herbs, honey, and fruit leaping forth on the palate. Regularly lauded by the critics, this is a superb blend in its price category, representing great value for money.
Nose:
A creamy, aromatic melange of vanilla custard, hints of aniseed, lemon curd, and butter toffee. Wood shavings and dried banana chips develop with just a hint of cassis.
Palate:
More of those banana chips showing through on the palate, this time there's a creamy hit of barley malt too, pepped up with a little allspice. Notes of ground walnut and caramel.
Finish:
Light spice and black pepper on the tail. Lingering notes of cereal sweetness.
Overall:
A spicy, beautifully balanced blend. Lots going on here.