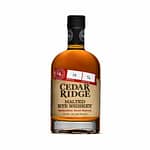 Cedar Ridge Iowa Rye Whiskey 750ml
Cedar Ridge Iowa Rye Whiskey 750ml
$105.00
Product images are for illustrative purposes only and may differ from the actual product due to label and design changes. Please contact us first if you are looking for specific versions. Otherwise, we ship based on the product name.
Cedar Ridge Iowa Whiskey made up of 74% corn, 14% malted rye and 12% 6-row malted barley. The whiskey celebrates the fact that Iowa is the largest producer of corn in the USA. The corn is produced on the family-run farm. A well balanced, smooth and fruity spirit.
Classification: Bourbon
Company: Cedar Ridge Vineyards
Distillery: Cedar Ridge Distillery
Released: Ongoing
Proof: 100*
Age: NAS
Mashbill: 75% Corn, 15% Malted Barley, 10% Rye
Color: Golden Raisin
TASTING NOTES OF Cedar Ridge Iowa Whiskey
Nose:
Liquorice, aromatic clove, stewed orchard fruits with burnt caramel and wood char. Lots of corn, grain, and new oak. There's a tingling of ethanol that makes its presence known, but not enough to be to unpleasant.
Palate:
Silky caramel, sweet toffee popcorn, rhubarb tartness alongside peaches and vanilla cream, dark fruit jam and oak spice. Balanced herbal notes of pine and peppermint appear. Corn, light vanilla, fruit jam, a hint of pear, and oak. The palate is more interesting than the nose, however all of the flavors present are very light and you really have to hunt them out.
Finish:
White pepper spice lingers, with tangy pineapple, refreshing menthol, toasted nuts and vanilla oak. White pepper, light fruits, vanilla, and fresh wood are all present at the start of the finish. These notes then fade away to just the white pepper and fresh wood, which linger for a short period.