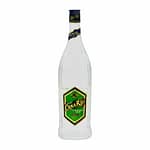 Sale!
Canario Cachaca 1000 Ml
-10%
Product images are for illustrative purposes only and may differ from the actual product due to label and design changes. Please contact us first if you are looking for specific versions. Otherwise, we ship based on the product name.
Canario Cachaca 1000 Ml is bottled at Fazenda Soledade in Rio di Janeiro – a family owned company that has been around since 1827. This Cachaca is double distilled in copper pot stills from fresh-pressed sugar cane juice, and blended with water from the distillery's own well. The result is a spirit that's flush with the notes of raw sugar cane and tropical fruits. It's sweet, vegetal and very clean, with just a hint of heat toward the finish. Overall, it's a well-balanced spirit, and while it doesn't show the earthy complexity of some cachaças on the market, it's exceedingly drinkable.
Kashasa is a traditional Brazilian strong drink, the first mention of which dates back to 1530. Cachas "CanaRio" is produced at the family enterprise Fazenda Soledade, founded in 1827. This premium drink is made exclusively from the juice of fresh sugar cane, grown in the mountains of San Fidelis, at an altitude of 800 meters above sea level, on the Paraiba do Sul river. The region is famous for the specialized cultivation of sugar cane. The irrigation of the slopes and lower humidity guarantee an optimum concentration of aroma to the reed. More: https://eng.winestyle.ru
Tasting Notes Of Canario Cachaca 1000 Ml
Color
Cachas pure, transparent color.
Taste
The taste of cachés is soft, clean and harmonious.
Aroma
The aroma of cacha is fresh, delicate, with delicate shades of sugar cane.