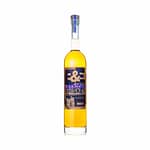 Breaking & Entering American Whiskey By St. George Spirits 750ml
Sale!
10%
Breaking & Entering American Whiskey By St. George Spirits 750ml
$95.00 
Product images are for illustrative purposes only and may differ from the actual product due to label and design changes. Please contact us first if you are looking for specific versions. Otherwise, we ship based on the product name.
Breaking & Entering is an American whiskey from St George Spirits in California, matured in a combination of ex-bourbon and ex-rye whiskey casks from other distilleries, as well as casks that previously help St George's own malt whiskey. Aromas of coffee beans, peanut brittle, maple syrup and oak char fill the nose, complemented by notes of pecan, chocolate, spicy rye, honeyed cereals and cherry pie throughout the palate. Breaking Entering American  Whiskey  is a Juvenile Delinquent, with lots of promising showing but a bit of a lightweight
St. George Spirits is a local distillery here in the Northern Californian Bay Area. Originally famous for making Hangar One Vodka that was wildly successful and then sold off. St. George also eventually garnered some recognition for their American Single Malt Whiskey though it was mostly the spirits competitions everyone seems to have a medal from. This is a cheaper ($35-$40) offering than their $80 Single Malt and much more widely available so I figured it may be worth giving a shot.
The schtick with this whiskey is that it is a blend of Kentucky Rye and Bourbon whiskey with some of St. George's own Malt distillate.
Find creamy vanilla, toffee, orange peel, chocolate brownies, and spearmint on the nose. The palate is redolent of Christmas cookies with orange zest and baking spices, as well as spicy oak, and chocolate malt balls. A short finish then highlights peanuts and cacao nibs. Fairly rich all the way through, showing lots of interplay between citrus and vanillins.
Nose:
Coffee beans, peanut brittle, a very soft hint of oaky char, maple syrup and fried dough.
Palate:
Pecan, chocolate, spicy rye warmth, honeyed cereals and a few hints of cherry pie.
Finish:
Strawberry jam on toast, hickory and caramel.