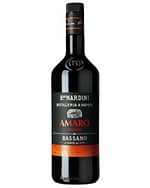 Bortolo Nardini Amaro Liqueur 1L
Sale!
5%
Bortolo Nardini Amaro Liqueur 1L
$120.98 
Product images are for illustrative purposes only and may differ from the actual product due to label and design changes. Please contact us first if you are looking for specific versions. Otherwise, we ship based on the product name.
Bortolo Nardini Amaro Liqueur
Having been flavored with orange, peppermint, and gentian, the Bortolo Nardini Amaro Liqueur is a playful digestif that serves as a fine end to a meal. The opening mint cools your mouth and makes way for the sweet orange and lasting liquorice. It would highly compliment a 5-course meal and even make a burger from the chip shop seem fancy.
Balanced, citrusy, intense. Amaro Nardini is the perfect balance of flavors, with hints of liquorice from the gentian root, peppermint, and orange: a variety of flavors, in perfect balance. Serve it straight, cold, or on the rocks: it tastes great in every way.
Bortolo Nardini Amaro an ingenious and enterprising man, was an expert in the art of distillation and possessed a unique knowledge of its process, when he descended to Bassano from his native Trentino region, in order to produce and commercialize his "Grappa." In 1779, he founded a distillery in Bassano.
This location was a strategic one for its ample water supply and the ease of reaching principal markets by boat. Bortolo Nardini revolutionized Italian distillation, quickly establishing himself as the leading producer of Grappa in Italy.
Subsequently, as the distillery was handed down from father to son, each generation made a progressive contribution toward refining the distillation process, allowing the firm to achieve the prestige of which Bortolo Nardini only dreamt.
Today, Nardini owns two distilleries in the Veneto Region of Italy: one in Bassano del Grappa, in the Vicenza Province, and the other in Monastier, in the Treviso Province. Combined, these distill 40,000 metric tons of DOC grape pomace which are wisely blended and carefully selected from the best wineries in the Alpine foothills of the Veneto and Friuli-Venezia Giulia.
APPEARANCE:
The intense color of dark chocolate.
NOSE:
The perfect balance of aromatic components, intense scent of liquorice and mint.
PALATE:
Bitter, with excellent fruit and herbal balance. With a fresh impact of mint, the gentian offers a pleasurable finish of liquorice.