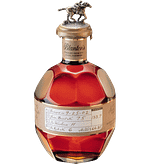 Blantons Straight From The Barrel Bourbon 750ml
Sale!
Blantons Straight From The Barrel Bourbon 750ml
-10%
Product images are for illustrative purposes only and may differ from the actual product due to label and design changes. Please contact us first if you are looking for specific versions. Otherwise, we ship based on the product name.
This Blanton's Straight bourbon whiskey was dumped on 7-6-12 from Barrel No. 6. It was stored in Warehouse H on Rick No. 7. The registered Bottle No. is 53. The proof on the Straight from the Barrel edition varies by bottle depending on the barrel. The bourbon comes off the still at 140 proof and enters the barrel at 125 proof. This particular bottle being reviewed comes in at an even 130 proof. Straight from the Barrel edition is currently only offered in international markets and in some domestic duty-free stores. Due to only being available in the international marketplace, fluctuation in price based on foreign currency exchange rates is normal.
This Blanton's Straight Bourbon was bottled specially for sale in the U.K. and is only sold in 700ml bottles. It was purchased for £70 when the dollar was trading at $1 to £1.55.
NOSE:
Raisins, dried fruit, orange citrus zest, and lightly toasted oak all merge together in a perfect blend. I can best describe it as warming and inviting, like a toasty wood-burning fire on a cold winter's day. It's just a perfect blend of everything you love about the nose on Blanton's, just enriched and greatly amplified. Taking a big breath in the alcohol is definitely upfront and noticeable, as should be expected for a 130 proof bourbon. While the alcohol isn't overpowering, it definitely makes itself present and takes away ever so slightly from the experience.
palate:
While the nose underplays the fact that this is 130 proof, the palate definitely brings you right back to reality. This is a big, bold, rich bourbon that's packing some heat. Ever so dry, the palate brings through a rich, heavy dose of oak along with vanilla, light honey, butterscotch, and plump juicy raisins. You really are contending with the heat though to pick out these flavors. Adding a few drops of water helps slightly reduce the heat and really pulls out the flavors in the palate.
finish:
The finish starts just like the palate, which in a word is HOT. The moment I finish taking my sip, my mouth instantly explodes into a ball of fire as the alcohol takes over. Ironically that burn is really just contained to my mouth and doesn't travel down my throat or into my stomach like some other barrel proof bourbons like George T. Stagg are known to do. The finish is definitely drier, however, it carries with it a nice flavor profile of preserved peaches, light vanilla, raisins, and oak. Even adding a few drops of water does little to subdue this fiery beast. It's a shame because the heat overpowers the flavors just a little too much, in this case, to really appreciate all this has to offer.
uniqueness:
Barrel proof bourbons are more and more common in today's marketplace, with many more new releases being barrel proof/cask strength than in years past. That being said, a single barrel, barrel proof bourbon is still the exception to the norm. Even rarer is a standard lower-proof single barrel being offered in addition to a barrel proof offering of the same brand. The only other company offering this combination is Four Roses with their standard single barrel and barrel proof private selection bottles and occasional limited releases.