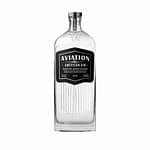 Sale!
Aviation Gin 750ml
-10%
Product images are for illustrative purposes only and may differ from the actual product due to label and design changes. Please contact us first if you are looking for specific versions. Otherwise, we ship based on the product name.
Founded in 2006, Aviation gin takes its name from the Aviation cocktail, which was created in the 1900s. The gin takes a Dutch-style rye spirit base combined with juniper, lavender, anise, sarsaparilla, orange peel, and cardamom, and the botanicals are steeped in grain spirit for 48 hours before they are redistilled. A pretty intriguing tipple, with a very handsome Gatsby-esque bottle. A fabulous gin to go its eponymous cocktail, though we wouldn't suggest you wing it.
Aviation is America's original craft gin. Created by the pioneering bartender, Ryan Magarian and master distiller, Christian Krogstad, in Portland Oregon, it is the culmination of their quest for a more versatile and mixable gin.
Instead of being overpowered by juniper – the flavor of which many perceive to be "harsh" or "medicinal" – Aviation is a balanced blend of seven botanicals: juniper, cardamom, lavender, sarsaparilla, coriander, anise seed, and dried orange peel.
Aviation's botanicals are infused by maceration – steeping them until the flavors have bonded – then redistilled. Many other gins are infused by vapor distillation– passing heated alcoholic vapors through a basket of botanicals.
A batch-distilled American gin that's inspired by the fuller-bodied Dutch style and championed by Ryan Reynolds, whose body we can't comment on for legal reasons.
Created by distillers Lee Medoff and Christian Krogstad, who teamed up with Seattle mixologist Ryan Magarian, this spicy, floral gin is made with rye neutral grain spirit and a 'botanical democracy' of juniper, cardamom, coriander, lavender, anise, sarsaparilla, and orange peel.
Nose:
Crisp notes of juniper alongside delicate floral sweetness, parma violets, a touch of citrus peel, and some green vegetal notes in there too, with a pinch of spice.
Palate:
Wonderfully spicy notes, more prominent than on the nose, cardamom shining through, and a scattering of cinnamon, with floral notes continuing.
Finish:
Spices linger, along with the return of citrus peel.