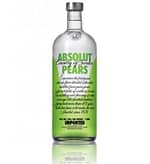 Sale!
Absolut Pears Vodka
-12%
Product images are for illustrative purposes only and may differ from the actual product due to label and design changes. Please contact us first if you are looking for specific versions. Otherwise, we ship based on the product name.
First released in 2007, Absolut Pears Vodka is a wonderful addition to the Absolut family. Since it first hit the market, this pear-flavoured vodka has been steadily gaining fans. Thanks to its high quality and its proudly sugar-free recipe. This crystal-clear vodka shines with the all-natural flavour of freshly picked pears. Just what the pear lovers of the world were waiting for to take their pear cocktails to the next – premium – level.
Enjoy the smooth body and delicate but vibrant flavor of fresh pears with Absolut Pears. Just like all Absolut vodkas, Absolut Pears is crafted exclusively with all-natural ingredients, without any added sugar, in Ahus, Sweden from locally sourced winter wheat and pure, deep well water.
In the hands of the great minds behind Absolut, there was no question that this flavour was going to be a success. The Absolut vodka recipe is deceptively simple, requiring nothing more than winter wheat and local water gathered from the area around the distillery in Åhus, Sweden. When put through continuous distillation and treated with the love and care that Absolut infuses into all of its products, the result is a pure, clean vodka that the world has come to love. The next step is to take that spirit and add the essence of freshly-picked pears.
The juicy ripened character of Absolut Pears Vodka is fruity in flavor, and is exceptionally smooth. Its distinctly pear aroma and taste calms the palate with a hint of freshness.
Colour:
Absolut Pears 1L 1L. is colorless
Smell:
Aroma of ripe pears
Taste:
Absolut Pears is fresh and delicate, with a mild taste of pear, long finish and a fruity taste.